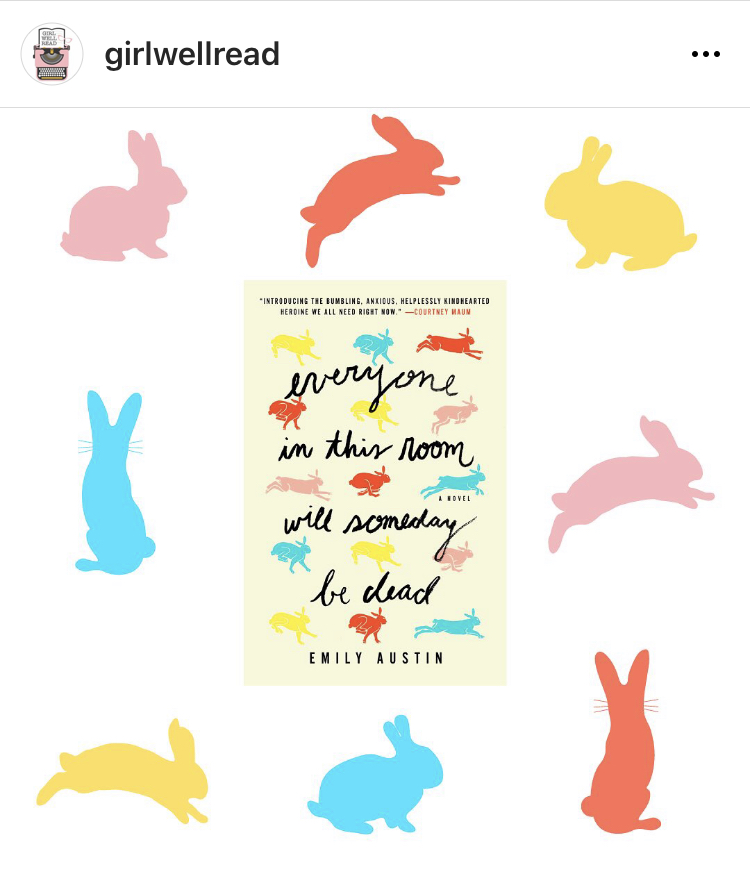 Welcome to STYLE Canada's Boreal Book Club: a monthly meeting narrated by Erin Catto, (reviewer at Girl Well Read),  for bookworms who are looking to scour new pages. Each instalment of our Boreal Book Club will feature a Canadian author and their latest title. Be sure to use the hashtag #BorealBookClub to share with us on social!
Gilda, an atheist lesbian, cannot stop obsessing about death. Alienated from her repressive family and desperate for relief from her anxious mind, she responds to a flyer for free therapy at a local Catholic church where she's greeted by Father Jeff who assumes she's there for a job interview. Too embarrassed to correct him, Gilda is hired on the spot as the replacement of their recently deceased receptionist, Grace.
In between trying to memorize the lines to Catholic mass, hiding the fact that she has a new girlfriend, and trips to the emergency room, Gilda strikes up an unexpected email correspondence with Grace's elderly friend, Rosemary. She simply can't bear to ignore the kindly old woman, but she also can't bring herself to break the bad news. In an act of desperation, she begins impersonating Grace via email. But when the police discover suspicious circumstances surrounding Grace's death, Gilda may have to finally reveal the truth of her mortifying existence.
With deadpan humour, and pitch-perfect observations about the human condition, Everyone in This Room Will Someday Be Dead is an exploration of what it takes to stay afloat in a world where the only thing that's certain is expiration.
Austin's sardonic wit is astounding. With its themes of mental health and queer identity, this novel is a multifaceted exploration of the life of a queer woman, one in which her her sexuality is not the only focus of her existence.
This heartfelt and hilarious character-driven debut introduces us to Gilda, a morbidly anxious twenty-something who accepts a position as a receptionist in a Catholic church and becomes obsessed with her predecessor's mysterious death. She is comprised of eccentricities and quirks—social situations handcuff her as does her anxiety-inducing panic attacks that make her a regular at the local hospital. Because she is so painfully honest and has a flair for sabotaging herself with what could possibly go wrong, Gilda struggles with forming relationships. But readers will fall in love with her.
Told from Gilda's point of view, Everyone in This Room Will Someday Be Dead is divided into five parts named after Catholic events. There are no chapters, but the narrative moves quickly with its short punchy paragraphs. Austin employs asterisks to change the scene and to break up Gilda's rambling. Her writing is witty and manic, touching and profound. She has brought to life some incredible and unconventional characters that are simply unforgettable.
Scroll to learn more about Austin in an inclusive interview with STYLE Canada!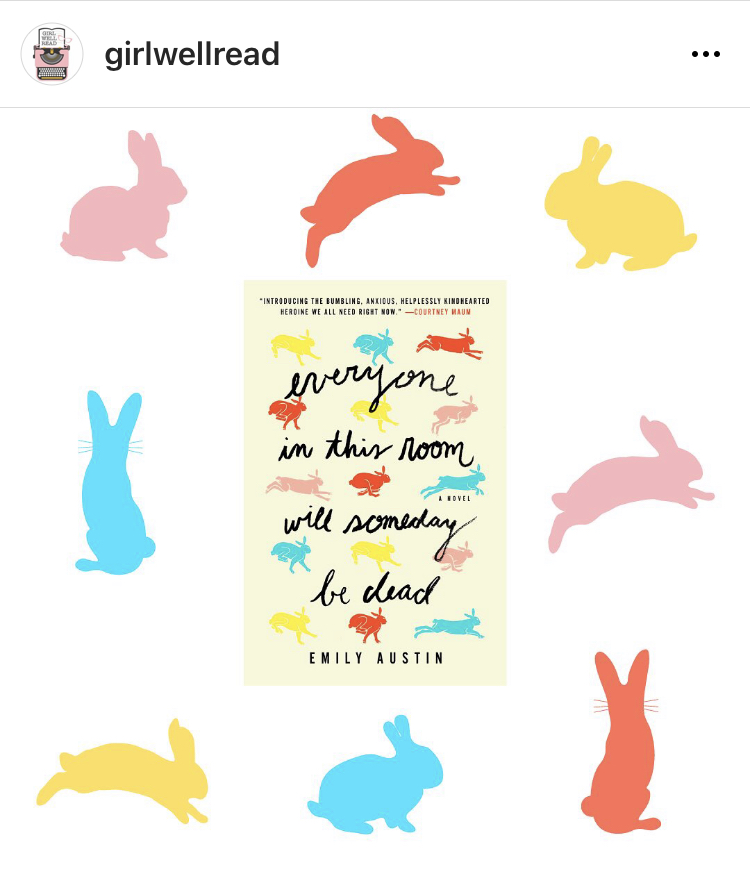 GWR: Describe your ideal writing/reading experience. 
ERA: I am in the woods. I have been assured there are no bears anywhere nearby. (I'm afraid of bears.) There are also no bugs. I am drinking tea and reading a sardonic book that just made me laugh out loud. There are tears in my eyes. A friend hears me laugh, asks what I'm reading, I tell them, and they reply, "Wow, that sounds good, I want to read that too." Then, they actually read it. We later get matching tattoos of our favourite line from the book. We tag the author in our tattoo picture on Instagram. The author "likes" the picture and comments "omg!"
GWR: Which writers (novelists, playwrights, journalists, poets) do you admire most?
ERA: There are so many writers I admire. I love writing that manages to be simultaneously funny and dark. Jen Beagin and Ottessa Moshfegh are both good examples of that. Bo Burnham's recent special on Netflix titled Inside is also a great example of dark yet funny content that I admire, and the show Fleabag by Pheobe Waller-Bridge is as well. I also love Steven Rowley's writing; he manages to write books that deal with sad topics like grief and loneliness while also being very funny and heartwarming. I just finished his new book The Guncle. I loved Pizza Girl by Jean Kyoung Frazier and Detransition, Baby by Torrey Peters. Outside of that, I love Leonard Cohen, Sylvia Plath, and also children's literature like Frog and Toad by Arnold Lobel.
GWR: Is there a particular author/work that inspired you to become an author, or the way that you write?  
ERA: Books I remember liking when I started taking an interest in writing were Speak by Laurie Halse Anderson, and Fall On Your Knees by Ann-Marie McDonald. I also had a potentially worrying fixation on The Bell Jar by Sylvia Plath.
GWR: How did you come up with the concept for Everyone in This Room Will Someday Be Dead?
ERA: I came to write this book by deciding my approach to writing would be to draw inspiration from the experiences in my life that have been challenging or negative. I figured if I do this, I can turn those experiences into something positive or constructive, like books. This way, I will be grateful for every experience, and there will be a silver lining when things go wrong. I was raised Catholic and have had challenges with depression and anxiety since I was quite young. This book is set in a Catholic church, and the protagonist is struggling with acute anxiety and depression. In the same sort of way comedians do improv, I asked myself "what are bad things I've experienced?" and a voice in my mind shouted "Depression!" and then another voice shouted "Catholicism!" and I thought, "Okay, what can I do with these?" and I wrote this book.
GWR: What came first for you—the overall idea or the characters? 
ERA: That is a sort of a chicken and the egg question for me. I came up with secondary characters after, but the main character, Gilda, and the overall idea came together at once I think. This book is very character driven, and the story is heavily intertwined with Gilda as a person.
GWR: Humour can be so difficult to write and yet you do it brilliantly. Did you find that the most challenging, or was there a particular scene that was the most difficult?
ERA: Thank you! I actually find it more difficult to write sincere passages. For example, it was hard for me to write the relationship between the main character Gilda and the girl she is seeing, Eleanor. I admire romance novelists for being able to write romantic relationships. I find that very difficult.
GWR: If you could tell your younger self something about writing and becoming an author, what would it be? 
ERA: My younger self would think I was bullying her. I struggled in English classes until I was in my mid-teens. I would likely spend the whole interaction trying to convince young me that I wasn't making fun of her. If I managed to convince her of that, I would tell her to stop deleting everything she writes. I wrote whole books as a teenager that I erased because I thought they were so terrible. I found one that survived recently in an old email and it was terrible; however, it was very funny to read as an adult, and I wish there were more.
GWR: This book takes a deep dive into other topics—mental health, religion, issues that face the LGBTQQIP2SAA community—why was it important to include these elements in the story?
ERA: Gilda is a lesbian and her character serves in part to show what the experience of being depressed and queer is like. Queer people are more likely to suffer from depression, and to die by suicide. Being queer is not inherently depressing; however, it is tied to homophobia, which is why queer people suffer from depression and anxiety at higher rates. Because of that, I meant to portray Gilda's relationship with the girl she is seeing as one area of her life that makes her happy. It served to illustrate why it is so damaging to queer people to suggest their relationships are bad. Gilda also mentions in the book that it's ironic that Catholicism was theoretically created to help people feel safe and meaningful when it takes away one of the few things that makes her feel like her life is worth living at all.
GWR: If your book was a beverage, what would it be?
ERA: Unconsecrated communion wine.
GWR: What are you working on now?
ERA: I am writing something new, but I am not ready to share just yet! But don't worry, I'm definitely anxious about it.
Last modified: October 15, 2022