December 26, 2022• byEce Tektunali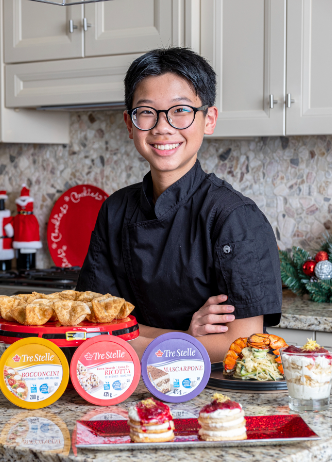 Chef prodigy and Junior Chef Showdown alumni Victor Chow has proven delicious and sustainable are interchangeable this holiday season at Cheese4Change with Tre Stelle.
This powerhouse chef wowed judges with his lineup of Michelin Star-level dishes on The Food Network's 'Junior Chef Showdown' where he took top prize with his winning Bocconcini Three Ways dish. Now he's created a stunning three-course festive meal with a new focus: sustainability. 
Victor knows waste is at an all-time high this time of year, so he was inspired to create a mouthwatering holiday menu after learning about Tre Stelle's national sustainability youth program called Cheese4Change. 
Cheese4Change awards $500 to students and $5,000 to schools for their sustainable recipe submissions – and not surprisingly, since Victor loves holiday hosting and is always looking for ways to implement sustainable cooking habits, he took on the challenge and succeeded with a cheesy, low-waste holiday feast!
To celebrate the Cheese4Change program reopening for submissions here and the upcoming holiday season, Victor is encouraging everyone to enter by sharing his menu for cheesepiration starting with these perfectly cheesy and crunchy crab rangoons. 
This recipe includes Tre Stelle Mascarpone to make things rich and creamy, and Tre Stelle's soft and sweet Ricotta for balance.
Appetizer – Crab Rangoons Recipe (Serves 4)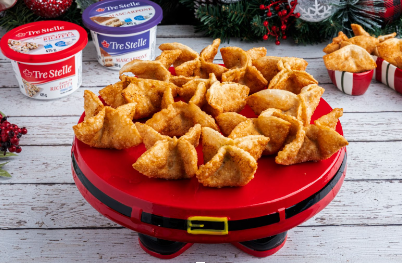 Ingredients:
1 package of Wonton Wrappers (and a bowl of water on the side – used to make sides stick)
⅔ cup Tre Stelle Mascarpone                   
⅓ cup Tre Stelle Ricotta
1 cup Sustainable Crab Meat
2 tbsp Finely Chopped Green Onions
1½ tbsp Old Bay Seasoning
Vegetable Oil (for shallow or deep-frying)
½ Fresh Lemon
Salt and Pepper, to taste
Directions:
In a large bowl, combine the Tre Stelle mascarpone, ricotta, and crab. Add Old Bay Seasoning, green onions, and salt and pepper to taste.
Place a small spoonful of mixture in the middle of a wonton wrapper. Fold one corner to the opposite corner so there is one middle point and 4 corners. (Use water to make sides stick.) Repeat until there is a platter of crab rangoon.
In a pot of vegetable oil at 375F, fry the rangoon. Be careful not to crowd the pot. Remove when they are golden brown (about 5 minutes).
Sprinkle with salt and Old Bay seasoning, top with chives. Option to finish with freshly squeezed lemon juice over plate of crab rangoon.
To view Victor's crab rangoons, click here
For the main course, the 'Big Cheese' is making a double cheese linguini! This zucchini and lobster pasta is packed with flavour, creamy textures and fresh herbs. To create perfect harmony among the various flavours at play, Victor uses two Tre Stelle cheeses in this recipe. The Bocconcini adds texture while the Mascarpone brings the flavour.
Main Course – Double Cheese Zucchini Linguini with Broiled Lobster Tail Recipe (Serves 4)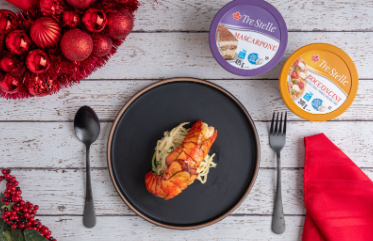 Ingredients:
½ cup Tre Stelle Bocconcini, grated or very finely chopped (pat dry before grating, season with salt)
1 cup Tre Stelle Mascarpone
¼ cup Butter
1 Shallot, finely diced
240 grams Linguini (about 4 servings)
2 Zucchinis, spiralled into noodle form
¼ cup Fresh Basil, finely chopped
1 clove Fresh Garlic, finely chopped or minced
4 Lobster Tails (pulled above shell, saddleback)
2 tbsp Butter
1 tsp Old Bay Seasoning or Paprika (optional)
Salt and Pepper to taste
Directions:
Cook linguini in a pot of salted boiling water until slightly firm. (Pasta will finish cooking in the cheese sauce mixture.)
While the pasta is boiling, start pan with butter over medium heat. Melt butter until slight bubbles form. Add garlic and shallots and cook until softened, about three minutes. Be careful not to burn the garlic or the shallots.
Add mascarpone to pan and stir until melted. Slowly add bocconcini to pan while stirring to avoid clumping. Add chopped basil. Add salt and pepper to taste.
Add linguini and spiral zucchinis to pan. Toss evenly in the sauce over low/medium heat. Add a small amount of pasta water if the mixture is too thick.
Brush lobster tails with melted butter, and season lightly with salt. In a preheated 350F oven, broil the lobster tails for about 12-15 minutes (depending on size of the lobster tails). Sprinkle with Old Bay Seasoning (or paprika) if desired.
Plate with pasta spiral in a vertical pile and place lobster tail on top of pasta mound.
To view Victor's double cheese zucchini linguini, click here.
To finish off this holiday feast, Victor's decadent cream and cookie crumble dessert with cranberry sauce is a taste of heaven! 
Dessert – Mascarpone Cream with Cookie Crumble and Cranberry Sauce Recipe (Serves 4)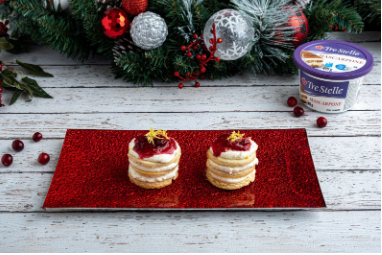 Mascarpone Cream
Ingredients:
1 cup Tre Stelle Mascarpone        
1 cup Whipping Cream
¼ cup Powdered Sugar
2 tsp. Lemon Zest (+1 tsp. for plating)
2 tsp. Vanilla Extract
1 Vanilla Bean, split open for seed
Cookie Crumble
Ingredients:
½ cup All Purpose Flour
3 tbsp. Butter (softened)
3 tbsp. Sugar
½ tsp. Salt
⅓ cup Milk (may not need all the milk)
1 tsp. Vanilla Extract
1 Vanilla Bean, split open for seed
Directions for Cream:
Whisk cream and powdered sugar together until soft peaks form, then gently fold in the Tre Stelle mascarpone, vanilla and vanilla bean seed. Store in refrigerator until time to plate dessert.
Directions for Cookie Crumble:
Cream softened butter and sugar with a mixer. Add flour and salt. Then add vanilla and vanilla bean seed and slowly pour in milk at small intervals and mix until there is just enough for batter to combine and not be runny or too liquidy.
Pour batter onto a baking sheet lined with parchment paper. Bake in a preheated oven of 375F for about 7 minutes. Flip the batter over, chop into smaller pieces or use round cookie cutter to cut out circles, and return the tray to the oven for another 7 minutes until slightly brown and crunchy.
Remove from oven and let cool. Chop into smaller pieces if desired (depending on plating preference).  Set aside.
Cranberry Sauce
Ingredients:
½ cup Sugar
½ cup Water
1 cup Fresh Cranberries
Directions:
Bring water and sugar to a gentle boil. Add cranberries and stir frequently for 10-12 minutes. Cook the sauce down to desired consistency.
For plating
Option 1 – Plate by placing cookie crumble on plate, add layer of mascarpone cream on top of cookie, layer with another cookie and mascarpone, finishing with mascarpone. Top with cranberry sauce and finish with lemon zest.
Option 2 – Plate dessert like a parfait. In a glass, start with a layer of cookie crumble, then mascarpone cream, then cookie crumble, then mascarpone cream, then top with cranberry sauce, and lemon zest.
To view Victor's Mascarpone Cream dessert, click here.
Now that's a holiday menu! To view the full recipes, click here. To learn more about Tre Stelle's Cheese4Change program, visit https://www.trestelle.ca/english/cheese4change/.