Andrea Norquay is a young entrepreneur and founder of Nadaré Co., an affordable and waterproof jewelry brand. Andrea founded Nadaré Co. after she noticed a gap in the market for affordable and durable jewelry. She was tired of spending hundreds of dollars on cheap jewelry, and solid gold is a luxury that many cannot afford. She began to wonder if it was possible for her to make jewelry that wouldn't tarnish, but still allow for the look and feel of fine jewelry.  
Diving straight into research on what metals would last and what is the most cost effective, she created a brand that is not only on trend and high quality, but also inclusive and affordable. Nadaré Co's pieces make the wearers feel effortlessly chic, no matter who they are or what their style may be.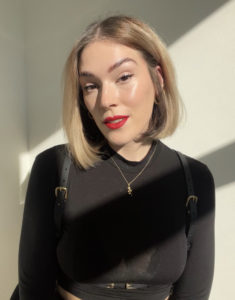 Image via Nadaré Co.
MP: How did your love of jewelry come to be?
AN: I have always LOVED jewelry. It was something I was gifted almost every Christmas and birthday from my parents. I've always admired the pieces my mother would wear and really based the jewelry I wore off of her. However, I wasn't necessarily passionate about jewelry, and I certainly never believed it would one day become my career!
MP:With your success and experience now, what do you wish you had known before starting Nadaré Co?
AN: That it's extremely lonely running your own business. In past jobs, I've always had people to lean on, and you have people in the same boat as you, but also people above you who are making the really tough decisions. When you run your own business, everything lies completely on you. Every decision big or small. The responsibility is tremendous and weighs so heavily, and unless your family or friends also own a business, it's incredibly difficult to convey how you're feeling because they truly just don't understand. 
MP: Where do you draw your design inspiration from?
AN: I consider myself to be a pretty trendy and stylistic person, so recently, I have been drawing more from my personal style and what I really like. I'm working on a collection right now that I'm hoping to drop on my birthday in October. It's all inspired by pieces I would wear myself on a day-to-day basis mixed with a trendy vibe of what everyone is really into wearing right now. I love chunky and more stand out pieces, but I find that generally, people enjoy more dainty and soft pieces. I'm trying to break through that a bit and show people they can be bold with their jewelry choices.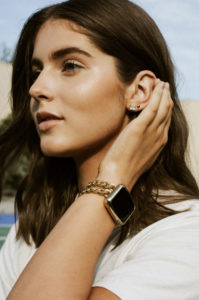 Image via Nadaré Co.
MP: Why was it important that you created jewelry that is both waterproof and affordable?
AN: Typically, the only way we can enjoy truly waterproof jewelry is when it's solid gold or sterling silver. For a lot of people, myself included, that's just not a luxury we can afford. I am also incredibly lazy when it comes to removing jewelry for activities such as showering, swimming, sleeping, etc. and I knew I wasn't the only one. So that's why it was so important for me to find a way to have my cake and eat it too! Why should high quality jewelry come at such a high price tag when there are options that allow us to go about our day-to-day life, without worrying about our jewelry turning or skin green. 
MP: What do you think sets Nadaré Co. apart? 
AN: I think it's that we don't come across as unattainable. We make sure our branding is on point, but also that we are still approachable and relatable. Aesthetics are important and I understand that everyone wants to be the "it" girl, but I also think having fun and showing the quirky side to running a business is also important! That's why I like to have fun when it comes to posting reels or TikToks, and also why we've seen success with such a broad range of people. 
MP:  As a women operated brand, what has it been like to navigate the industry?
AN: It's been challenging, but also extremely rewarding. I feel truly blessed to be growing up in a generation where there is so much acceptance towards women in higher positions. I've had my fair share of doubters, but I've also received an outpouring of support from everyone around me. I believe I'm also fortunate to be navigating an industry that is predominately run by women, because I don't face a lot of the same adversities as other women in more male dominated industries. That being said, women also have a tendency to pull other women down, so I think it's extremely important to surround yourself with people who truly believe in you, and don't see your success as a threat. 
MP: Where do you see the future of Nadaré Co? 
AN: The sky's the limit! I started this company with very low expectations, but it's really become my passion project and something I see myself continuing for the foreseeable future. I'm hoping that one day, I am able to truly offer something for everyone, no matter what their style or financial situation is. I'd also like to expand the brand outside of jewelry, but for now that is my main focus.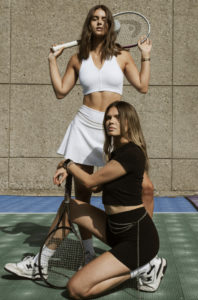 Image via Nadaré Co.
Last modified: November 25, 2022