Toronto's longest running annual multi-arts fashion event Fashion Art Toronto (FAT) will return with a three-day in-person event at Design Exchange (234 Bay St.). Taking place from Friday, May 6 through Sunday, May 8. The 2022 event will host runway shows from 40 Canadian designers and feature fashion-inspired art installations. New this season, Fashion Art Toronto has partnered with Canadian designer popup INLAND who will present its Spring retail popup featuring 40 Canadian retail brands throughout the weekend. Our Faces of FAT series will take a deeper look at the designers behind the collections, and learn about artists and their stories. Check out FAT's Instagram for updates on the fashion festival.
Artist/Model: Roney X
Website: https://www.roneyxmusic.com
Instagram: www.instagram.com/roneyxmusic
Showtime: This year Roney X will be modelling/walking in the shows.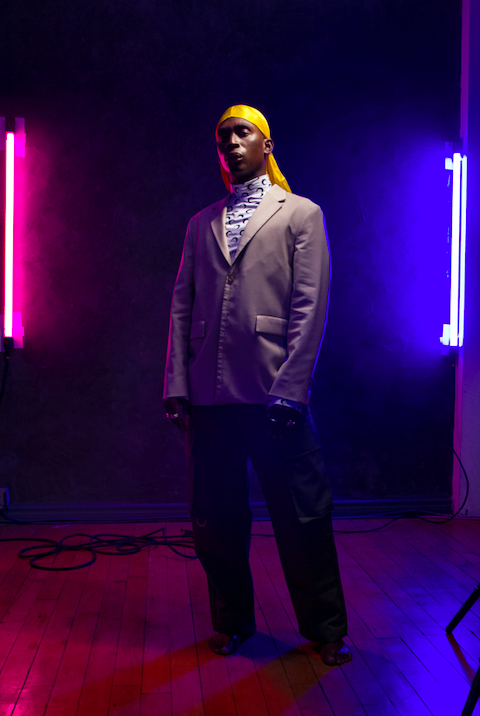 SC: Tell us a bit about yourself

RX: I am a Grenadian born; Toronto, CA based singer-songwriter, rapper, model and performer. I started developing my craft/skills at a very young age. Attending Etobicoke School of The Arts for music theatre. Then furthered my dance career at X University (formerly known as Ryerson University). My professional acting and dance career has allowed me to be on incredible TV sets and perform on stages all over the world. While I love dancing and acting. Music has always been my #1 passion. So I can confidently say I've been embarking on this new musical endeavour for the past year as Roney X, the artist.

SC: What inspires you?

RX: Coming from a dance background and being that the Toronto dance community is very small. I've got a lot of dancer friends who inspire me daily. Other Toronto based musical artists that I see doing their thing right now. Film/TV, photography, runway shows, fashion, art, Toronto (no pun intended) lol, play a huge role in my identity. I love going out to events and simply just hanging out with friends charges my soul.
Also, I recently travelled to Europe for the first time this year visiting Berlin, Milan, and Paris, the architecture and history of those cities allowed me take myself out of my North American bubble. I've gotten so inspired and motivated because of that trip.

SC: Tell us the story behind your brand/art

RX: In the last few years I've decided to follow a new path, as I've mentioned that has been #1 passionate…MUSIC! I've recently transitioned from dancer and actor, to Roney X, the musical artist. My sound is r&b/soul, pop, rap with an island flare. Other musical genres include dancehall, reggaetón and afrobeats.
I write and make music for everyone and I'm all about inclusivity. I believe that anyone can sing along to my songs! It doesn't and shouldn't matter. I'm a passionate powerhouse artist bringing a fresh new sound to the r&b and rap game. I want to be the representation for others that has been missing in this industry. Still managing to incorporate my dance, fashion/modeling and acting skills to the Roney X brand.

SC: What's one piece of advice you would give someone starting out in your field?

RX: Only one? Lol. As an artist or model starting out I would say, be your own cheerleader! Love what you do first and I guarantee you others will see it and follow suit.

SC: What do you love most about FAT?

RX: I love the fact that FAT holds true to its core value of inclusivity. This falls right in line with the "Roney X" brand. While I find that mainstream media is slowly starting to include this idea. FAT has been a trailblazer for many years. I've been able to perform, dance, and model for FAT.

SC: What does 2022 hold for you?

RX: New music, more videos, more performances, more photoshoots, and getting my face out there to the masses!
Last modified: April 8, 2022