In this week's edition of Happy Hour, we are taking you to New York City to check out Bar Calico, located in the Freehand Hotel in Manhattan's Flatiron district. The hotel has become the go-to location for young New Yorkers due to its multiple areas for drinks, food, and dancing. Bar Calico is the latest go-to drink respite for enjoying a happy hour date, a candlelit late-night evening, or before heading to the dance floor at the Georgia Room. Keep reading below to see what makes it so special.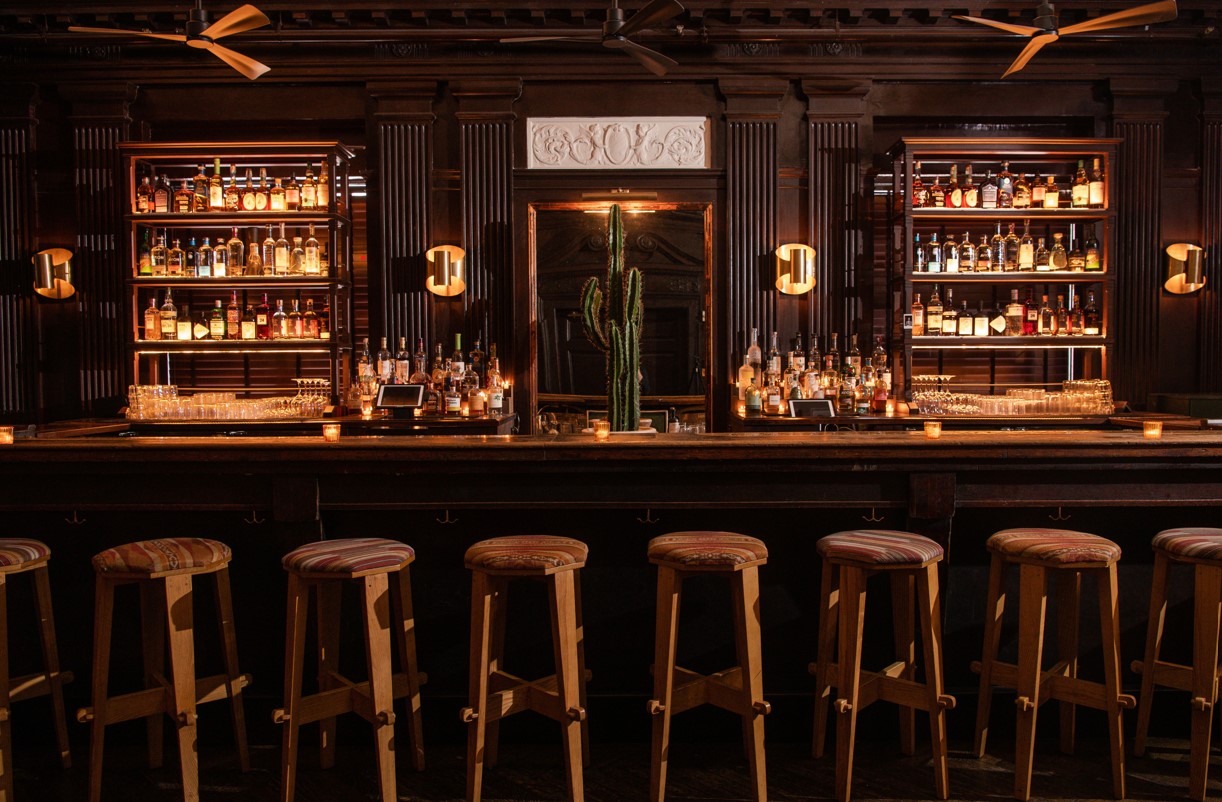 Vibe
I had been to the Freehand Hotel a few years back for a work meeting, and I remember making a note of what a cool spot it was and that I would need to venture back to check out the other spaces within the hotel. Fast forward a few years later (thanks, covid!), and I was finally back. This visit saw me and my bestie in town for New York Fashion Week and needing a centrally located spot for drinks between the last show and dinner reservations. Bar Calico fit the bill! Located within the hotel was this cozy neighborhood cocktail bar. Inspired by Georgia O'Keeffe's life experiences and passions, the vibe is creative but laid back. Straight to the point with some sleek seating and a focus on the bar, what you come here for. And what a bar it is, I found myself scanning the spirits for brands that I hadn't heard of. You can tell someone put some thought into curating this selection. More on that later. 
Drinks
There is no question that what makes this space truly special is the drinks. The playful yet thoughtful cocktail list is created by Head Bartender Trevor Easton Langer. During our visit, we had the pleasure of drinking with Trevor (to be clear, we were drinking, not him 🙂 His passion for his role is evident. From the creative cocktails to the stories behind the spirits he brings in, if you build it, they will come, and Trevor has built it. At one point, he asked us if we wanted to try the Martini Caprese… I assumed he meant salad. But no … it was one of his newer Martini creations with olive oil, tomato, and basil-infused Elyx, Lustau, Blanco Vermouth, and Balsamic Vinegar. It tasted just like the fresh produce that came from my Italian grandfather's gardens … but I could drink it. It was surprisingly delicious, and from that point on in the night, I trusted Trevor in all his recommendations. Some of our favourites included Under My Cucumberella (Hendricks, Basil Eu De Vie, Cucumber, Lime, Soda) and La Libanesa (Cardnexe Desierto Sotol, Illegal Joven, Hibiscus Cardamon Syrup, Pomegranate, Lemon, Mint).
Bites
Admittedly, the focus here is on the drinks, with a more limited food menu of Chips & Dip, Marinated Olives, Popcorn & Almonds. But honestly, I wasn't even thinking of food here as the drinks were so satisfying on their own. But if you are really hungry, you can easily hop over to Comodo, the restaurant from husband-wife team Felipe Donnelly and Tamy Rofe. Another offering in the hotel, this Award-winning stop, offers Latin American food from Chef Donnelly.
Verdict
We will be back! If only to see what creative creation head bartender Trevor Langer has put together next! 
Last modified: January 31, 2023