Every week, our editors pick their favorite items from our chic general store "the edit" which is in full swing in the heart of Niagara-on-the-Lake. Tourists and locals alike are shopping some fan favourites while perusing through our shop. If you haven't had a chance to stop by, here's a few of our Content Editor Ece Tektunali's favourite finds this week. Visit us at 1-233 King Street in Niagara-on-the-Lake this weekend from 10:00 a.m. – 5:00 p.m.!
Say hello to your new favourite dress. Perfect for those hot summer nights up at the cottage, Modern Sunday' dress is ethically made with 100% natural fibres. Perfect for any occasion, it is designed to transition from the beach to brunch to the boardroom. So if you get a chance to stop by this weekend, don't miss out on it!
Hali Hali Designs creates tea towels that will 'bring a dash of style to any kitchen'. The newest addition to Hanna and Liz's collection at 'the edit' are some tea towels and cocktail straw gift sets that we're totally in love with! Perfect as a gift or something to buy just because, stop by to check out these beautiful tea towels and crafty cocktail straw sets this weekend.
Ember Wellness is giving us a 100% pure and natural way of hydrating our skin. We are obsessed with their Hydrosol Oil + Water Duo as it transforms are dehyrated skin into radiant skin with vitality. Every duo is derived from a different plant providing unique benefits and nutrients to the skin and is a perfect way to keep that sun-kissed glow on all year long.
Pineapple Collaborative's pink blush salt from Ponds High in the Peruvian Andes is like something you have never before tasted! A little really does go a long way thanks to its medium size grind, and it only requires just a pinch to enhance the flavors of all your favorite dishes!
Hello Bonjour – Scarves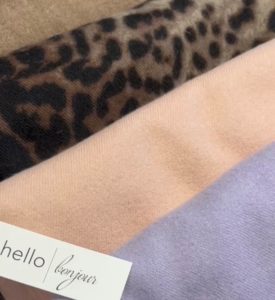 Source: Style Canada
These Hello Bonjour scarves are what you need this fall. The cozy fabric and beautiful colours are an amazing addition to your fall/winter wardrobe!
Visit style.ca/events from more information on our pop-up!
Last modified: November 29, 2022