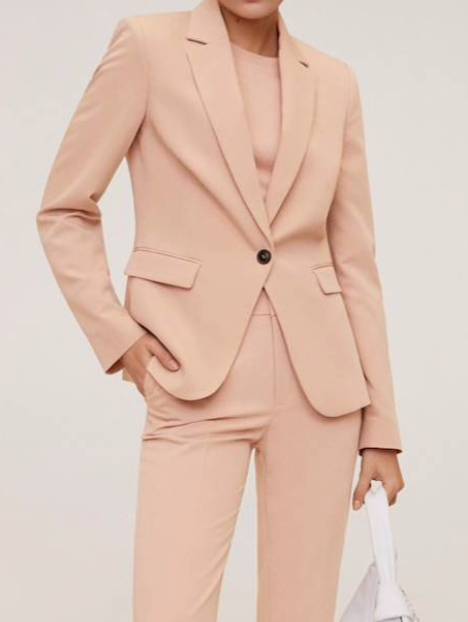 Esteemed street-style photographer Bill Cunningham called fashion "the armour to survive the reality of everyday life". I find this to be particularly true with the power suit. Something about wearing a power suit makes you exude confidence and feel it too.  
Designer Joseph Altuzarra once called pantsuits "a symbol of female empowerment and strength". A well-fitting blazer and matching trousers began to play a major role in feminism of the 70s and 80s, adapting to the shifting gender roles in the workplace.
No matter her profession, a power suit is essential to every women's wardrobe. Especially when July translates to "back to work!" for many who've been #WFH since the COVID-19 outbreak began.
In preparation for going back to the office and life itself, here's five power suits to help you dress successfully for every occasion. 
For Work: 

Channel your inner Sigourney Weaver in Working Girl.
Le Chateau Notch Collar Blazer, $118.97 and Tapered Leg Pant, $55.97
For Weddings:

Tired of wearing the same floral dress to every one? Go for a suit instead. You'll be the most sophisticated guest there.
Zara Buttoned Cropped Blazer, $59.99 and Mini Flare Pants, $19.99
For Nights Out:

Quit the all-black bodycon dress once and for all.
ASOS DESIGN Jersey Sequin Belted Wrap Suit Blazer, $74.00 and Jersey Sequin Slim Suit Pants, $49.50
For Sunday Brunch:
Mix it up with bright canary yellow just to indulge in pancakes and mimosas.
Simon Miller Yellow Galen Blazer, $815 and Belted Barr Trousers, $595 
For Job Interviews:  

Choose clean, simple, and classic, make it your own by accessorizing with items that let your personal style shine through, then land that gig.
Mango Essential Structured Blazer, $69.99 and Belt Suit Trousers, $59.99
Last modified: July 1, 2020