One of the most difficult items to declutter is our clothing. We hold great emotional attachment to our wardrobe, and this is why many people keep clothes they do not wear anymore. Why is it that we push past the same items to get to the same plaid shirt we rock every weekend, but the thought of letting these items go is paralyzing?
When we keep items that we no longer use or forget we even owned, we end up wasting plenty of time, energy, and money. You want your wardrobe to be a representation of you and your current lifestyle today, not your past life or future anticipated life. Purging items you no longer need, use, and love is the first step in the journey of getting organized. Less is always more so you can truly cherish and love the items in your space.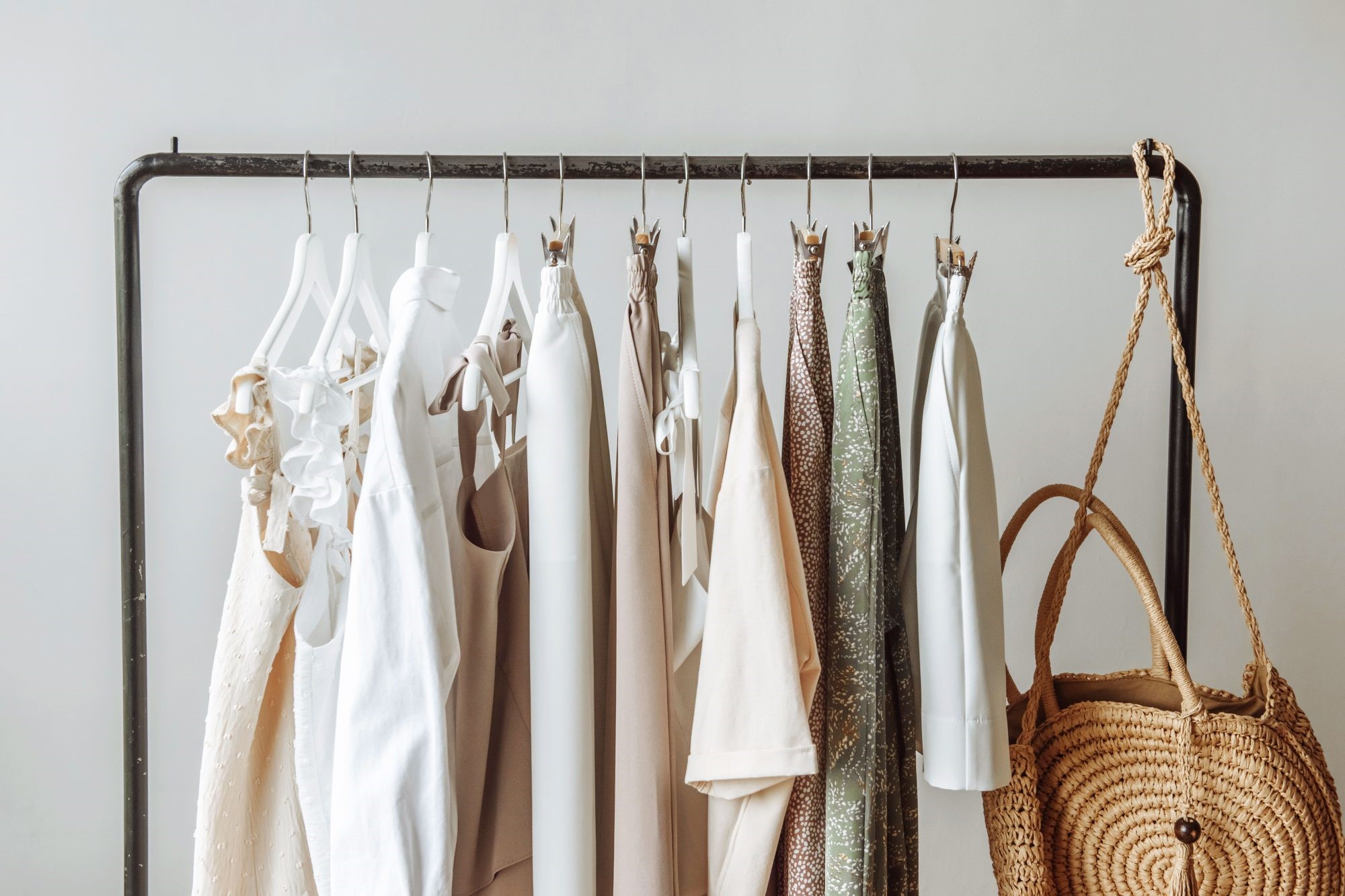 Here are 8 reasons why people keep clothes they do not wear anymore:
1- THE ITEM IS BARELY WORN AND YOU FEEL GUILTY ABOUT WASTING MONEY
Letting go of an item you barely wear is not wasting money. The money is already spent and left your bank account at the point of acquisition. It is a waste of closet real estate to keep an item that you have no intention of wearing. Not to mention, the negative turmoil you put yourself through every time you see the item and continuously choose not to wear it – It is truly not worth holding onto. Whether you sell or donate, someone else will absolutely love this item and get proper use out of it. This could be a good lesson for how to make different choices when shopping in the future.
2- YOUR WEIGHT HAS CHANGED AND YOU OWN CLOTHES IN MULTIPLE SIZES
Depending on the circumstance, it is typically recommended to keep items in your closet that fit you right now. Sometimes keeping various sizes in your closet adds to the clutter and makes picking out what to wear more difficult. If you are SET on keeping clothes of various sizes, I recommend boxing them up or storing them in a spare closet. See how often you are gravitating to the various sizes. After three months, if you have not gone looking for various sizes, this is a good indication to let some of those clothes go. Child bearing years is an exception, and it may be a good idea to keep various sizes nearby because of weight fluctuations.
3- YOU KEEP CLOTHES YOU ARE SUPPOSED TO HAVE IN YOUR WARDROBE
Your wardrobe should reflect only you and your lifestyle. There are many fashion rules projected at us from the media, however that does not mean everything preached will feel and look good on you. Just because a TV shows fashion segment states everyone needs a floor length skirt, does not mean that will work with you, your preference of style or your body type.
4- CLOTHES FOR A CERTAIN TYPE OF EVENT OR OCCASION
Keeping an array of clothes for a rare occasion or event can often be a waste of space in your wardrobe. Of course, a few pieces for the odd wedding, or fancy celebration can come in handy in a pinch. It is always best to house versatile pieces in your wardrobe, so a special event piece could fit in your everyday style too.
5- JUST IN CASEITEMS 
Sometimes we do not need as much as we think. For example, we most likely would not need 10 white t-shirts in our closet. If we really wanted to wear a white t-shirt again during the week, we could simply give it a wash so it is readily available for wearing. The just in case mentality is actually a negative affirmation you are repeatedly telling yourself. "I am okay now, but in the future, I may have lack therefore I must hold onto this item". We don't want to energetically live under the impression we will have lack in the future. Being happy and content with the items you actually use is a liberating feeling.
6- ITEMS LOOK AND FEEL GOOD BUT YOU ARE TIRED OF WEARING THEM 
When this happens, it is definitely time to let go of the item. When you're tired of wearing the same clothes, it is a sign you got your use out of it – a good opportunity to donate and let someone else enjoy! People often hold onto clothes until they are worn and have holes, but it is actually more than acceptable to pass off an item YOU are emotionally done wearing. The item does not need to be worn for you to want to switch up your wardrobe.
7- SOMETHING WAS GIFTED TO YOU
You were given the gift to bring happiness, not feelings of guilt. If this item is no longer serving you, then it is okay to let it go. I'm sure the person who gifted it to you would not want you to hold onto it just because you feel obligated to. Feelings of guilt, shame, and obligation keep us stuck and prevent us from true happiness. Know that when you let go of an item it will always land in the best hands and you will feel so much better not staring at it feeling guilty on a regular basis.
8- SENTIMENTAL VALUE ITEMS 
Be selective when choosing what sentimental items you wish to keep. If you no longer wish to wear the clothing, you can make a keepsake box, or a creative project with the items, e.g., a quilt, frame, etc. Sometimes taking a picture of the item and storing that in your files will suffice as a beautiful memory instead of holding onto the item to collect dust. We can still hold onto the memory's items bring us, without the physical item itself.
Do you find yourself resonating with any of these reasons as to why you keep clothing in your wardrobe even though you no longer wear certain pieces? Once you have a better understanding of the WHY you are doing this, you will have an easier time letting items go. Remember the true importance of life is about collecting memories, not things. Happy Purging!
Last modified: February 17, 2023