Welcome to STYLE Canada's Boreal Book Club: a monthly meeting narrated by Erin, reviewer at Girl Well Read, for bookworms who're looking to scour new pages. Since we aim to shine a spotlight on all things Canadian in life and style, beauty, and health and wellness, it goes without saying that every installment of the Boreal Book Club will feature a Canadian author and their latest title. Be sure to use the hashtag #borealbookclub to share with us on social!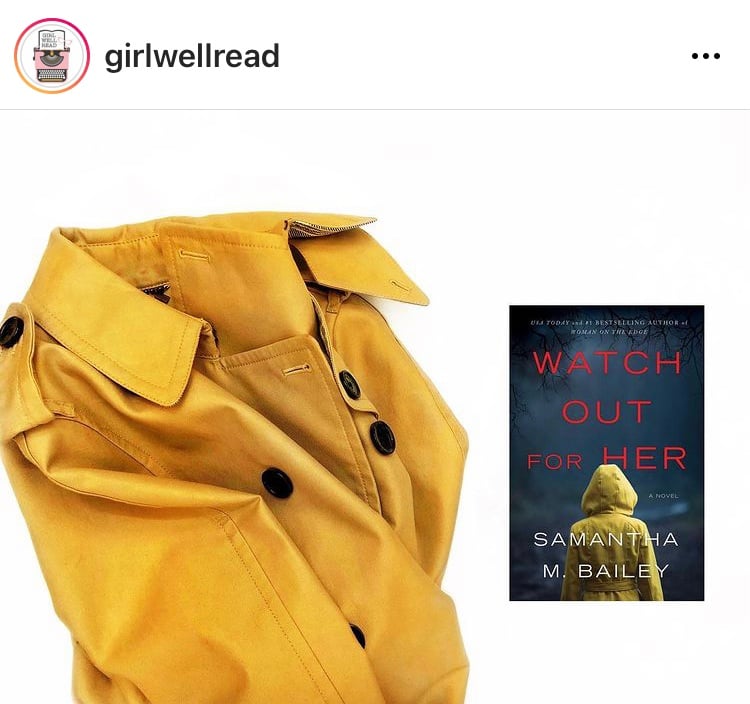 Wherever you go…she'll be watching.
Sarah Goldman, mother to six-year-old Jacob, is relieved to move across the country. She has a lot she wants to leave behind, especially Holly Monroe, the pretty twenty-two-year-old babysitter she and her husband, Daniel, hired to take care of their young son last summer. It started out as a perfect arrangement—Sarah had a childminder her son adored, and Holly found the mother figure she'd always wanted. But Sarah's never been one to trust very easily, so she kept a close eye on Holly, maybe too close at times. What she saw raised some questions, not only about who Holly really was but what she was hiding. The more Sarah watched, the more she learned—until one day, she saw something she couldn't unsee, something so shocking that all she could do was flee.
Sarah has put it all behind her and is starting over in a different city with her husband and son. They've settled into a friendly suburb where the neighbors, a tight clique of good citizens, are always on the lookout for danger. But when Sarah finds hidden cameras in her new home, she has to wonder: Has her past caught up to her, and worse yet, who's watching her now?
Samantha M. Bailey's latest is a tense, acerbic psychological thriller. 
Set in Toronto and Vancouver, Watch Our for Her is smart, suspenseful, and full of shocking twists. It is intricately plotted—Bailey reveals just enough to create frenzy and momentum. Her characters are well-developed and propel the expertly paced story. She deftly employs a dual timeline and alternating perspectives, writing from both Sarah's and Holly's viewpoints. The leading ladies are compelling and complex.
Bailey is a master at manipulating her reader. With short and punchy chapters, she cleverly delivers on so many levels. 
Watch Out for Her is a deep dive into obsession, trust, toxic relationships and the lengths one woman will go to in order to keep her family safe. A must read! 
Pick up your own copy of Watch Out for Her or keep reading to learn more about Samantha M. Bailey in an inclusive interview with STYLE Canada.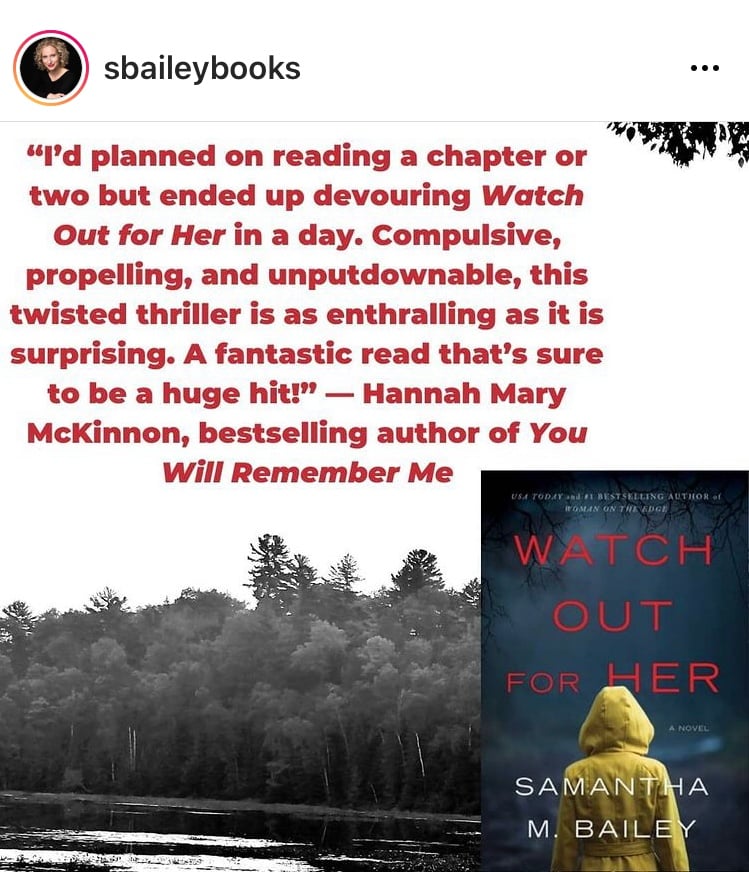 GWR: Describe your ideal writing/reading experience (when, where, what, how).
SB: My ideal writing/reading experience includes solitude, so for the last two years, that's only been a dream. I've learned to write and read in chaos, wherever I am, but if I had the opportunity, I'd love to have a whole day, starting at around 5 am, when it's dark and quiet, at a cottage on a lake. I imagine that it's summer, and I can see the water from a cozy couch in front of a large bay window. There's no one else around, and I have a cup of hot coffee and my words keeping me company as the sun rises and sets.
GWR: What is it that draws you to darker themes? 
SB: Motherhood. I've always been fascinated by the dark side of life, how far people will go to get what they want, but it's having children that compels me to write about it. Being a woman responsible for the care and well-being of people I love more than anything in the world evokes fear, an almost anguished feeling of love, and a fierce need to protect them. I know I can't control much of what happens around them, but I want to try to understand what drives people to dark thoughts and behaviors.
GWR: Is there a particular author/work that inspired you to become a writer or the way you write? 
SB: So many authors have and do inspire me. As a teenager and in my early twenties, it was Ernest Hemingway, Milan Kundera, Margaret Atwood, and so many others. When I began seriously writing novels at the age of twenty-nine, it was Jennifer Weiner. As a thriller author, it is my entire community of talented, fearless fellow writers who unflinchingly delve deep to explore all the complexities of life, love, and desire.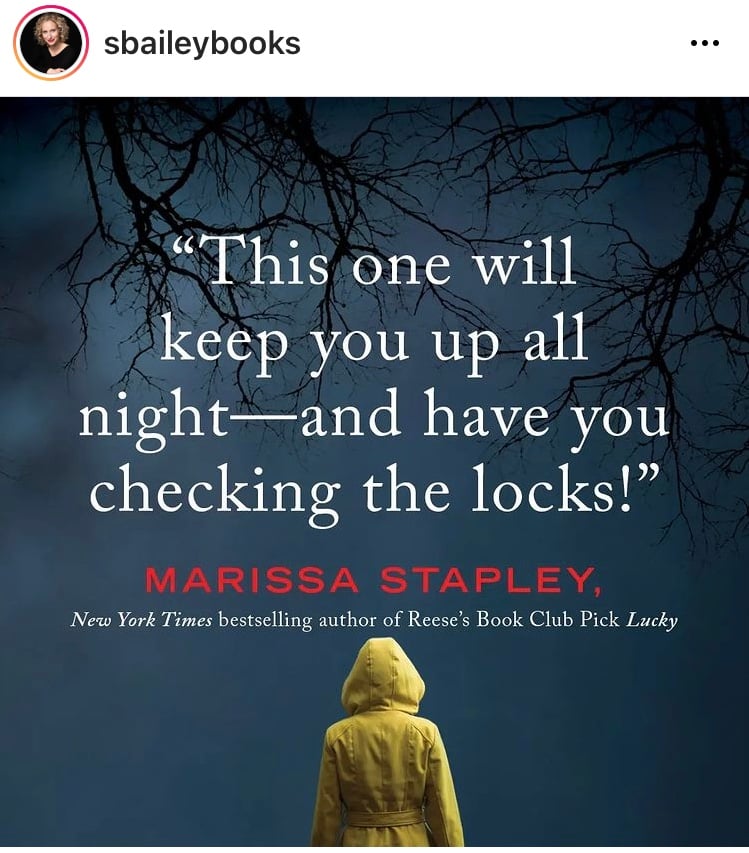 GWR: How do you decide what point to start the story at and how much detail you're going to provide?
SB: I usually begin my story immediately after an inciting incident that changes my main character's life. That single moment that shifts their perspective, and in my books, their safety. How much detail depends on what drives the scene and moves it forward the most.
GWR: What comes first for you—the overall idea or the characters?
SB: The premise generally comes to me first, then the themes I want to explore. Once I have an idea that I feel in my bones, and I need to feel that flutter of excitement and anticipation, I turn to the characters then the structure.
GWR: The themes of this book—toxic relationships, voyeurism, trust—are popular in thrillers, yet your take on them was exciting and fresh. Where did you draw inspiration from?
SB: Ever since I can remember, I've been intrigued by what goes on behind closed doors. On walks, as I pass by the different houses, I glance—not peer—into the windows. Most of the time I'm actually looking at the decor and layout of people's spaces, and I've never taken photos, because I'm not a voyeur like Sarah. But I do think we all like to people watch. Were I not a writer, I probably would have been a psychologist because I'm fascinated by our minds, how complex and complicated we all are: likeable, unlikeable, moral, and messy all at once. So, I think I'd say I take inspiration from how real and flawed we all are.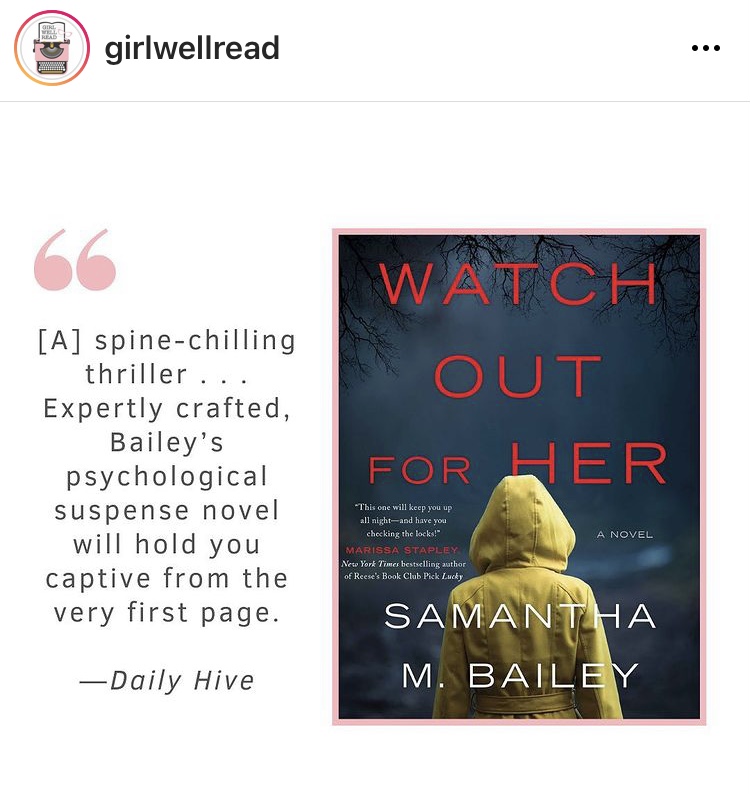 GWR: What made you decide to write Watch Out for Her from a dual point of view? Was it easier or more challenging to explore the parallel storyline?
SB: It was never a question. From the moment I started writing, I knew I had to tell both Sarah and Holly's stories, separately, yet also together in their scenes. I love the concept of perspective: how we see things is often not how other people see them. Our views tend to be based on our experiences, traumas, hopes, and dreams. No matter what structure an author chooses, I think it's always challenging. What was difficult with the structure of Watch Out for Her was making sure the past tense story propelled the present tense story forward so organizing the chapters was tricky. 
GWR: Did you build your story around a twist/reveal, or did that happen organically as you wrote it?
SB: I knew my major twists before I started, but there were a few that knocked me off my chair, as the characters led me to them organically. So, they were both built and just happened as I wrote the story piece by piece.
GWR: If your book was a beverage, what would it be? 
SB: The beverage that would be Watch Out for Her is a collaboration with me and Blair of the wonderful Instagram account: books.and.bevies. We decided the perfect drink would be a Caesar: Canadian for the setting, spicy, sharp, and blood red.
GWR: Can you share what you're working on now?
SB: I'd love to because I'm very excited about it, but it's only at the beginning stages. That's a magical time for an author when much of the writing process is deep thoughts, notes, middle-of-the-night brainstorms. I'm currently working on a thriller about women seeking a fresh start that might end in murder.
Last modified: January 29, 2023