We all have the spontaneous urge to jump in the car and take off for a few days, but with the rising gas prices we're finding more folks leaning towards a #staycation instead of visiting far those far off lands. So! What if we told you there was a way to explore the world in a sustainable luxury car way? Our bet, after you read all about our time crusing in this Porsche, you'll be adding it to your car collection this year.
The Car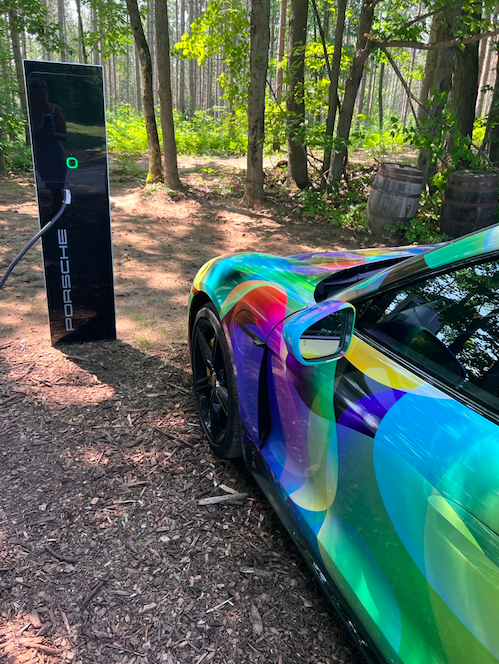 This isn't your basic Porsche. It's the all-electric TaycanGTS Sport Turismo, eclectically wrapped in a limited edition 75-Year Anniversary print to celebrate 75 years of all things Porsche. The smooth ride in the Turismo is an adrenaline rush that never fades; even we're in bumper to bumper traffic heading to a weekend at the cottage. With a 590 HP of overboost power with Launch Control, peerless performance and everyday versatility, the TaycanGTS Sport Turismo effortlessly combines elegance and practicality with every turn.
The vehicle features all things beautiful about owning a Porsche. From their creative Air Curtains to improve aerodynamics, flexible storage space, and elegant design, to the panoramic fixed glass roof for your passengers to spot the constellations at night and GTS-specific drivetrain tune for increased agility you'll love every minute driving this vehicle.
Designed with the environment in mind, this electric vehicle showcases that Porsche is on our side when it comes to charging a sports car. From a mobile charger to charging stations across the country, the company has thought of everything when it comes to everyday life in a sports car.
The Destination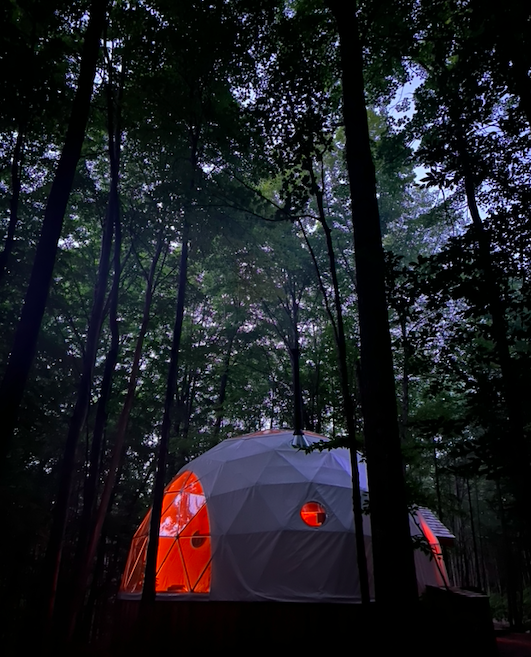 Glen Oro Farms is a luxury camping location nestled just a couple of hours out of the hustle and bustle of downtown Toronto. The moment we find ourselves here, we're met with sustainable luxury once again. This Eco-Retreat focuses on slowing things down, sitting by the fire and reminiscing about the good ol' days with your besties. Each luxury dome features a king sized bed, ensuite bathrooms, and a kitchenette equipped with the essentials you'll need while 'roughing it' in the wild. The farm also features a cedar sauna, private fire pits, and private chef dining experiences; Glen Oro Farms, much life Porsche, has thought of everything when it comes to sustainable luxury.
The Experience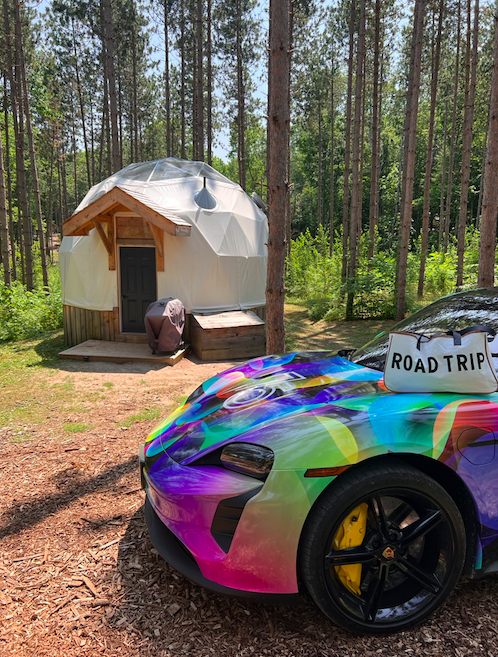 Our journey begins in the heart of downtown Toronto, navigating through the streets in the beautifully crafted TaycanGTS Sport Turismo. Leaving the city with a small ecological footprint, we find our way to Glen Oro Eco Retreat and are so ready to recharge our souls as we step into the quiet comforts of this luxuruious glamping space.
When we arrive at Glen Oro we're welcomed with opened arms as we head out on a hike through the picturesque trails, cool off with a cold plunge, go on a remarkable horseback riding experience, and hop in the sauna to detox the body while Chef Paul arrives to cook us a gourmet meal over an open fire. The experience, as you can imagine, combines the amentities of a luxury hotel and unparalleled experiences with the peacfulness of camping in a sustainable way.
The best part, Porsche has a Destination Charging station conviently located at Glen Oro Eco Retreat, so as the Taycan recharges for the travel back to the city the following morning, so do we while resting our heads in a beautiful Stargazer dome. The Taycan is equipped for all types of driving, so as we're navigating back to Toronto, we take the good ol' country roads and enjoy every minute of this smooth, sustainable ride.
Sustainability is the future, and we're all here for it, especially when it comes to crusing in the TaycanGTS Sport Turismo.
Last modified: August 4, 2023