It's summertime and you know what that means… it's time to pack your bags, get outside, and soak up the sun! Enjoy everything that our country has to offer this summer by exploring Canada's top cities. If you're looking for some unique experiences to enjoy this summer, here's our summer itinerary for the Niagara Region we know you'll love.
Discover Local Shops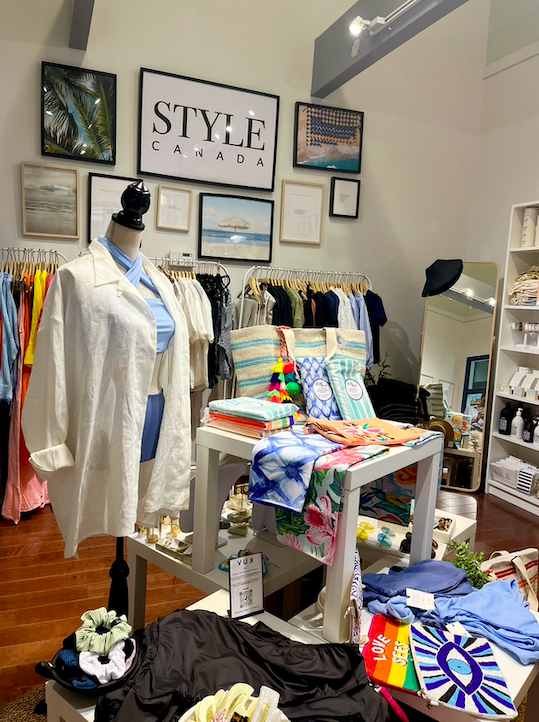 Undoubtedly, summer shopping is a necessity! If you're looking for a collection of unique Canadian brands, be sure to check out our summer pop-up located in the vibrant beachtown of Port Dalhousie. The collection of Canadian companies we have in the shop this summer are our go-to summer favourites. From hand-sewn linens to beautifully designed collections, home goods, jewelry and everything in between, stop by the shop this weekend (and every weekend!) at the Lock and Main Marketplace (17 Lock Street in Port) from Thursday to Monday from 10:00 a.m. – 5:00 p.m.
Zoom through NOTL
Cycling through Niagara-on-the-Lake is one of our favourite mid-morning activities. Take the the Niagara River Parkway trail (one of our favourites!) to experience NOTL as a local. The trail brings you into town and if you're keen on a longer ride, stroll to Niagara Falls on your cruiser. Zoom Leisure and a variety of companies offer self-guided tours to the best destinations in town (yes, we so recommend stopping at a few wineries, but more on that in a second!) Simply put, the self-guided tours invite you to explore the area at your own pace, and they're the best way to see Niagara.
Go on a Wine Tasting Tour
Of course, when exploring Niagara-on-the-Lake, we can't forget about the wineries and breweries! Take to exploring the abundance of wineries on your own, or head out on a tour with Niagara Vintage Wine Tours. Visit a few local, family owned wineries on a half-day tour and experience some of the best wine in the region. Whether you're looking to taste wine from NOTL or the Bench (in Beamsville), there are over 50 wineries in the region, so you may want to spend a few days finding your favourite wine!
Visit the Sunflower Field
With summer comes sunflowers blooming season! At the end of July and continuing throughout August, we highly suggest visting Howells Farm to take your quintessential photo of you standing amongst the heavenly sunflowers. The farm is located Fonthill, and is without a doubt, at the top of our summer bucket list! If you're keen on getting all the flower photos, make a pit stop to Neob Lavender Farm too for a photo in the lavender fields.
Check out Port Dalhousie's SupperMarket
Good food, local wine, and live music right next to the beach, count us in! During the summer, the Port Dalhousie Supper Market is a fan favourite at Lakeside Park (just down the street from our pop-up at the Lock and Main Marketplace). Spend the day at the beach then stroll over for some delicious food from a plethora of food trucks and beverage stands. The market is on every Tuesday in the summer.
Dine at Good Earth Winery
End your day off by dining at one of our favourite winery restaurants in Niagara; the Good Earth Wine and Food Co.. With a seasonal menu created from the earth and designed for the senses, the team at Good Earth has created a really beautiful place to enjoy all the the Niagara region has to offer.
Last modified: July 16, 2023