Welcome to our newest installment of Destination…., a digital guidebook crafted for you with the inside scoop on unique destinations around the world. We take the stress out of planning your perfect getaway (or staycation!) by sharing the trendiest accommodations, unreal restaurants, and provide you with a list of the must see spots and hidden gems at each destination. Travel the world with us, we know you'll have the best time.
Here we take you on a journey through Victoria, British Columbia. You can also find the Youtube vlog of this Destination Series on our Youtube Channel!
Destination: Victoria, BC
Located on the homelands of the Songhees and Esquimalt People, Victoria is a walkable city where old world charm meets a sweet ocean breeze. From colonial architecture, to sustainable initiatives and the most beautiful places to explore, there's something for everyone in this mild climate, port-side city. Located on Vancouver Island, it's easy to get here (scroll for more on that below) and folks welcome you with open arms the moment you land here.
Where to Stay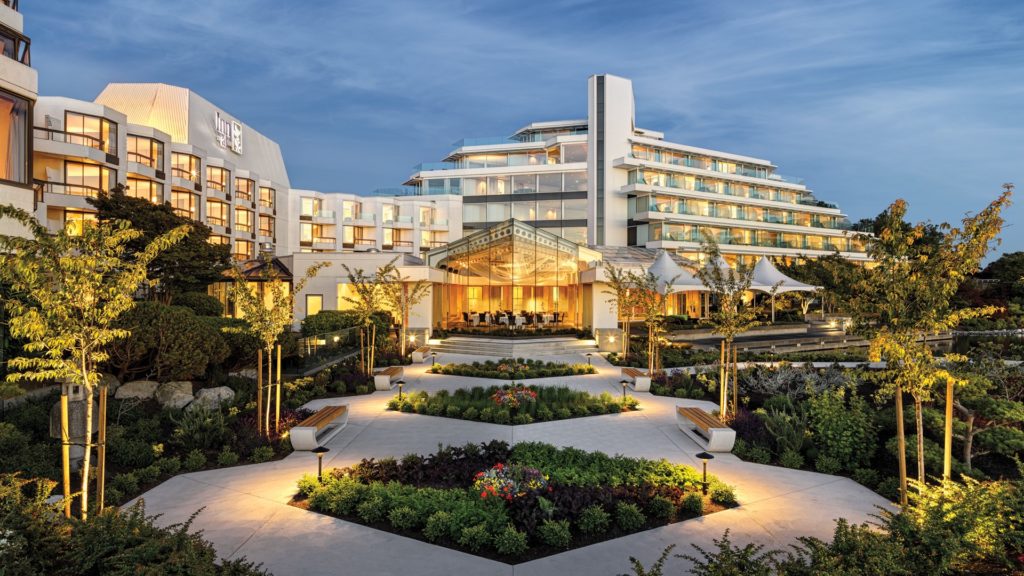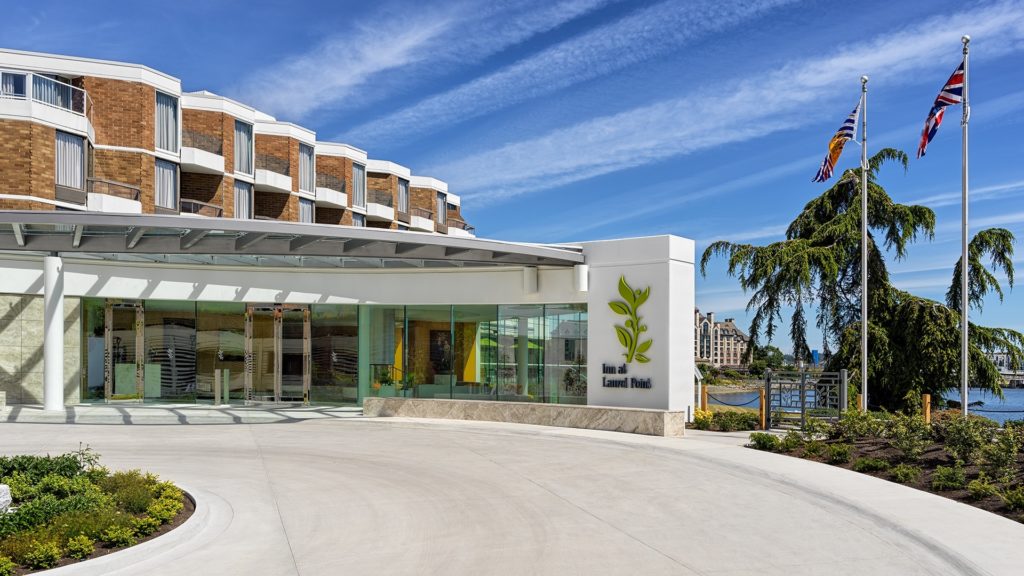 Combining sustainability with elegance, Inn at Laurel Point is the place to stay while visiting Victoria. With glistening water views, your senses are awakened the moment you walk up to this carbon-neutral hotel. Situated at the entrance to Victoria's Inner Harbour, on the lovely Laurel Point, we were welcomed into a place of natural beauty.
Rooted in history, the hotel was built with true love. As the story goes, owners, Paul and Artie fell in love, and brought their brilliant minds together to transform the hotel into an independent inn in 1982. A few years later, they added a South Wing (later named the Erickson Wing) to create an architectural masterpiece. A recent redesign features beautifully modern guestrooms, a lovely lobby, and delectable restaurant.
The lobby is home to floor to ceiling harbour view windows with views, a wraparound fireplace and sitting area where you can rest your feet after a long travel day. The friendly front desk staff were all smiles when we strolled up, and were eager to share their knowledge about the hotel and city.
The Room
Opening our suite door, we were in awe of the beautifully crafted space we called home for our stay. From a plush king-size bed to a deep-soaker tub, no expense was spared in creating this space.
We took a nap on the comfortable sofa, answered emails at the spacious desk, and curled up on the lounger with a cozy throw blanket while watching the boats roll into shore. We loved all of the little details; exclusive bath and body products by L'Occitane en Provence, cool Canadian art on the walls and glass walk-in shower.
Morning, noon and night we relaxed on the terrace watching the sun kiss the sea. And, the best part of all, all 200 rooms and suites offer terrace balconies with those glistening harbour views.
Sustainability at Inn at Laurel Point
Inn at Laurel Point is British Columbia's first carbon neutral hotel; meaning that they have found their perfect balance between emitting and absorbing carbon from the atmosphere. Something that 'wow-ed' us during our stay is that because of the unique design of the hotel, they're able to enact cool methods to create a carbon neutral space. When the Erickson Wing was built in 1989, a hydrothermal, marine cooling system was installed to keep guests warm and cool every moment of their stay. Epic right?!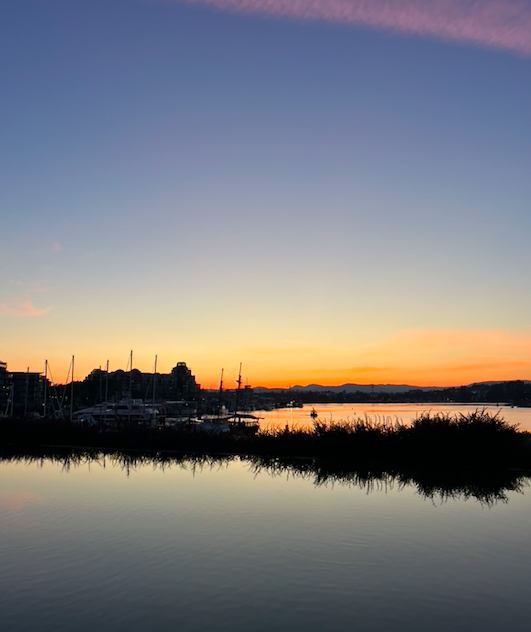 The team at Inn Laurel Point is continually creating a more sustainable future with their Project 2030, audited waste diversion practices, planting fruit and vegetable gardens, installing honeybee hives and training their staff to think outside of the box while reducing their carbon footprint.
Where to Eat
Victoria is a beautifully designed, walkable city with a plethora of restaurants to dine at with your besties. Here are our go-to spots:
Aura Waterfront Restaurant + Patio
We put this one at the top of the list, because who doesn't love an amazing hotel restaurant. Stroll out of your room, and find a seat at the restaurant of your dreams when you dine at Aura. Overlooking the harbour, the restaurant was designed to bring award-winning, globally-inspired dishes to you and yours.
We had the opportunity to experience the Chef's Tasting Menu (a must for all who visit Victoria!) and were wow-ed with every single dish the chefs presented to us. From the Potato Gnocchi to the Foragers Gallery Mushrooms, the unique bursts of flavours within each bite were something to be delighted about. The chefs at Aura stroll out into their gardens to use fruits and vegetables they are growing; if that's not a sustainable way to cook a meal, we don't know what is!
10 Acres Commons + Bistro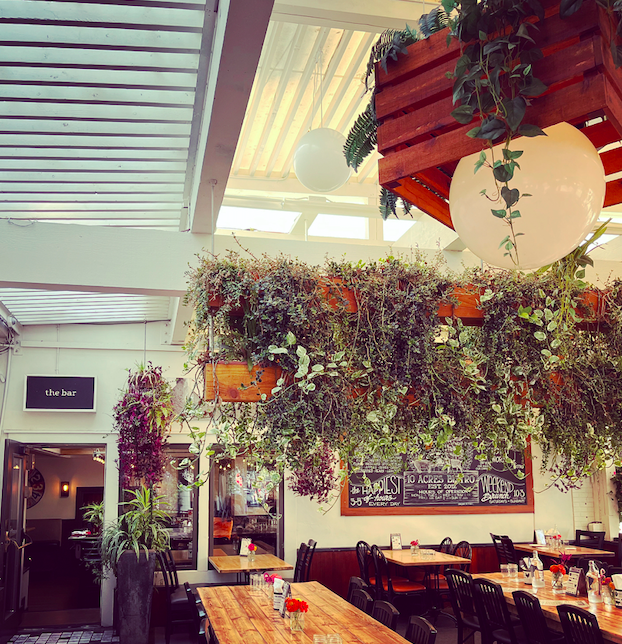 One name, and farm with 4 restaurants, is a place you know you're going to want to dine at when all things wellness is on your mind. 10 Acres Commons and 10 Acres Bistro are the coolest spots to gather around a table with your besties while in Victoria. Located around the corner from each other, each restaurant is designed with you, and their farm in mind. Cultivated from heirloom seeds to your dish, chefs at 10 Acres create dishes that wow diners. From a delicious farm salad to handcrafted sushi, each restaurant serves up the most authentic farm to table experience.
Be Love Vegetarian Restaurant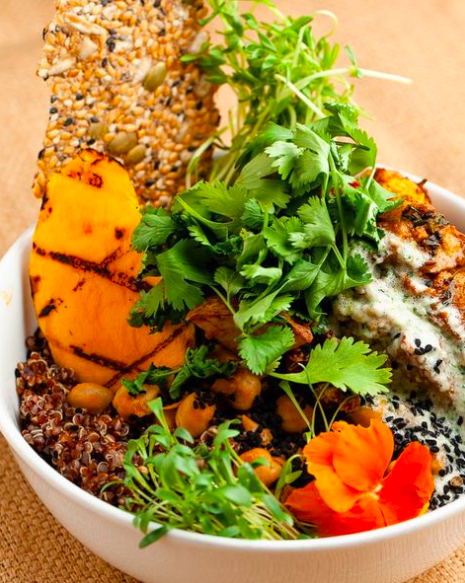 Flowing with the natural way of living, Be Love is a place of pure nourishment. Designed to honour the seasons, the chefs use local ingredients from wild spaces and local farms to nourish our bodies. Each vegetarian dish is thoughtfully crafted to blend flavours of the season that speak to us. From fan favourites like the 'Mac', an untraditional take on 'mac and cheese' to their Karma bowls, you will walk out of Be Love with full bellies and hearts.
Zambri's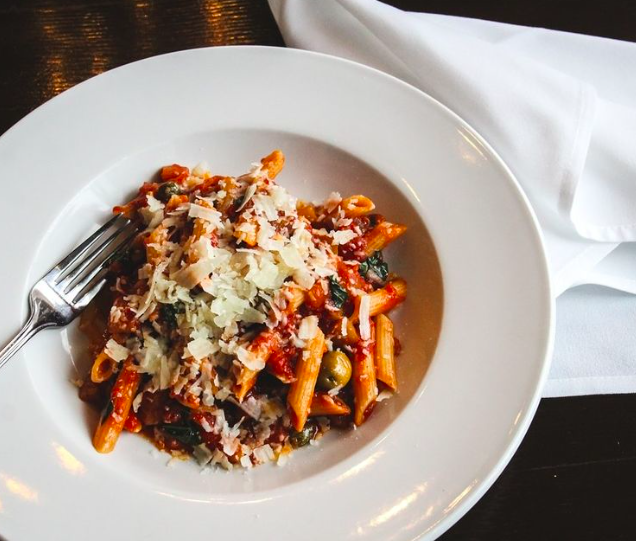 If you love Italian, you'll love Zambri's. Nestled within an eco-conscious building, this trattoria dishes up classics like pasta, pizza and the best appetizers you can dream of. And in true authentic fashion, upon your arrival, you'll feel as if you're family. The bar is an open invitation to have some great laugh chats over a good bottle of wine and delicious wood oven pizza. And the restaurant itself is home to a natural way of living. From rustic dishes to conscious food creations, the chefs of Zambri's have created something amazing.
Getting to and Around
Getting There
Whenever there's an international airport a short drive away from any island city, we're always excited to travel there. And Victoria is just that and more; an island city with an international airport. We highly recommend flying directly into the Victoria International Airport, as it's about a 30-minute drive into the city. If you're coming from Vancouver take the ferry or a seaplane. The best part of traveling across British Columbia is that HelloBC provides you with the inside scoop to traveling across the province.
Getting Around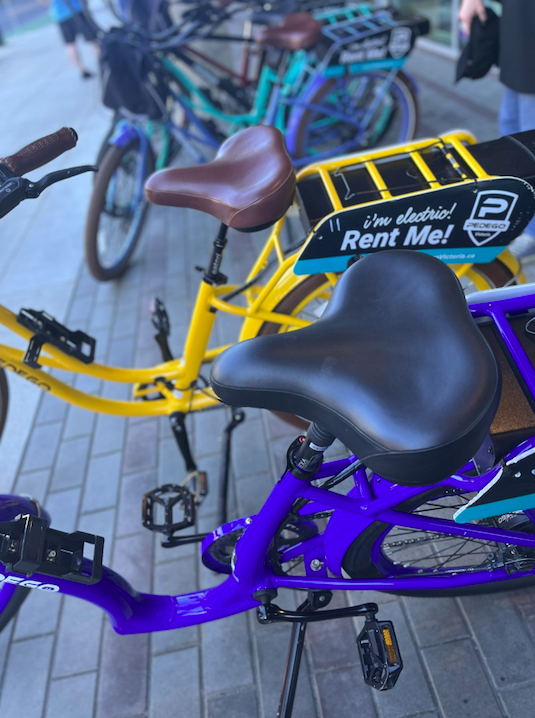 Victoria is a cyclists dream. We highly recommend renting an electric bicycle from Pedego Victoria to explore the city faster than your feet can take you. Providing us with a simple tutorial, we eagerly took to the streets to easily explore the city. From top-selling Interceptor, Boomerang and Element models, Pedego is the way to go.
Epic Excursions
We took a few moments to explore Victoria with some pretty amazing people, and we invite you to do the same. The epic experiences we had while exploring this beautiful city will remain in our hearts forever.
Explore Songhees Walking Tour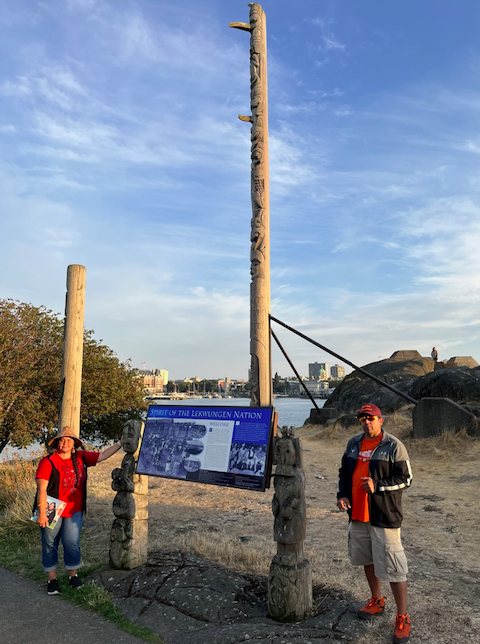 We were invited to experience a Songhees Walking Tour to learn the history of the Songhees and Esquimalt People, and it was a truly impactful afternoon. As we walked along the water with our cultural guides, we learned about the Songhees traditions, where historical sites lay, and listened to empowering stories rooted in the Songhees people culture. We took many moments to acknowledge that we were guests on this land, and listened to the words of the people who have called this place home for generations.
Orca Spirit Adventures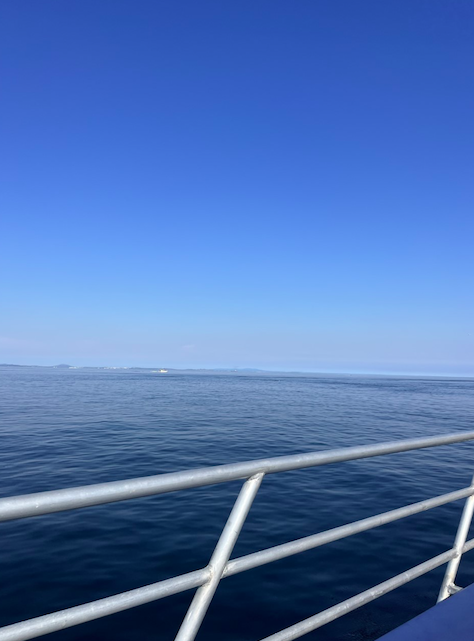 Whale watching with Orca Spirit Adventures is an epic adventure. Gaze into the vast waters to spot orcas, porpoises, sea lions and humpback whales. The moment a whale rose from the water, we were blown away at the pure magic of these ocean creatures.
Museums
For all you history buffs out there, Victoria is home to BC's Parliament Buildings and the Royal BC Museum. The museum houses collections designed to share the stories of this brilliant province in an enlightening way.
An Afternoon of Wellness
Ritual Nordic Spa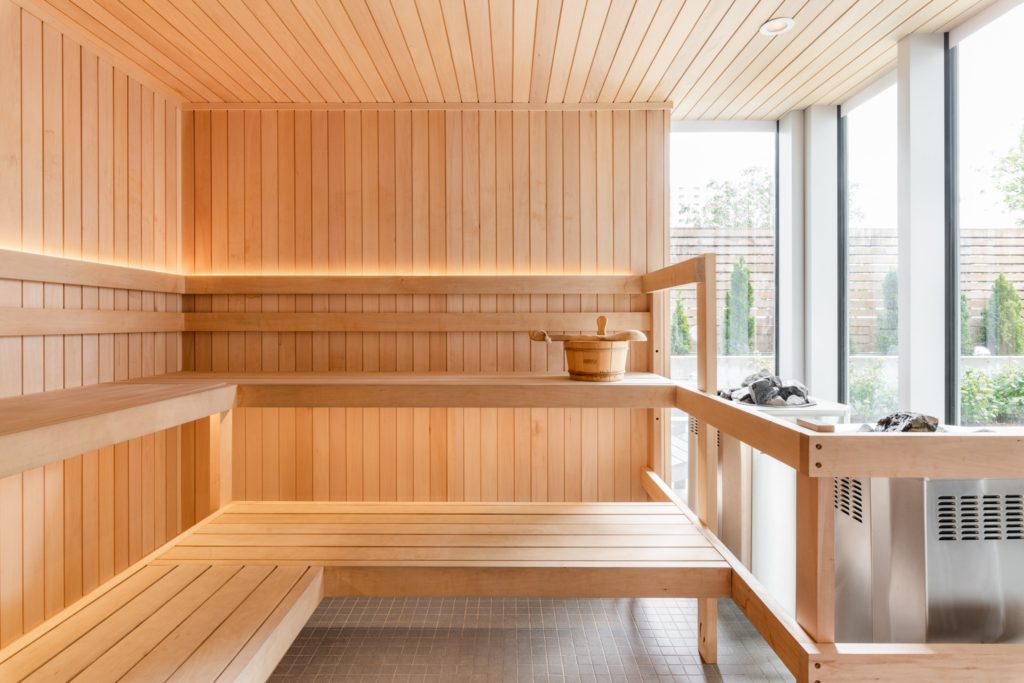 Hit pause and find your bliss at Ritual Nordic Spa. Leisurely make your way through the Nordic circuit to cleanse the body and rejuvenate the soul. From a Finnish sauna, to a cold plunge pool, Ritual Nordic Spa is a little place of heaven in the heart of downtown Victoria.
Ocean River Sports Kayaking Adventure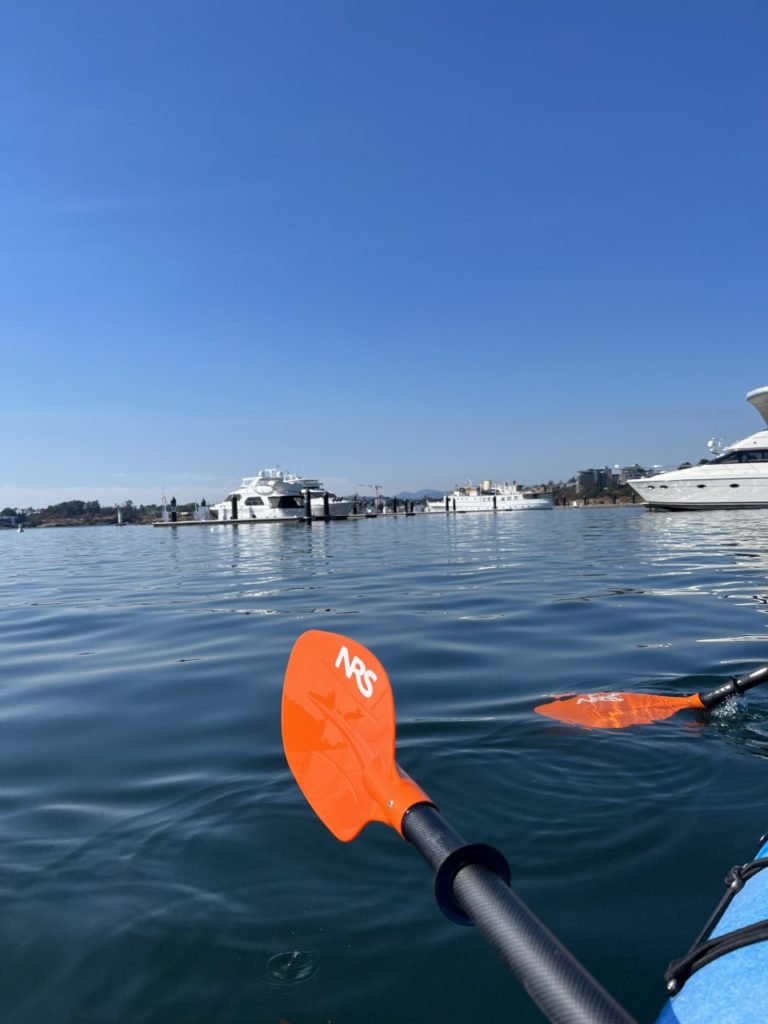 Take to the water with Ocean River Sports and find a little bit of calm and serenity seaside. While on the calm waters with this crew you'll learn all about the ins and outs of kayaking and have the true privilege of exploring the area from a different perspective. We were in a tandem kayak and had a blast, we so recommend this adventure!
Hidden Gem
Inn at Laurel Point will soon be opening an epic cafe. One of the few hotels with a pastry chef on site, they wanted to create even more of a community feel to the hotel by opening a delectable cafe with the best pastries, paired with their delicious teas and coffee. The space will welcome tourists and locals alike and will feature their famous croissants. This will be your new go-to spot the moment you arrive in Victoria.
Victoria, a city where the ocean meets the shore. Where conventional thoughts blend with traditional movements on the land. And where sustainability is at the forefront of all they do here. Victoria, a place you'll love just as much as we do.
To watch our video vlog of the Destination Victoria, BC series, click on the link for the Youtube video of the vlog and don't forget to check out our other videos at Style Canada's Youtube Channel.
Last modified: November 3, 2022