Welcome to STYLE Canada's Happy Hour Series. Every month we partner with our favourite brands in the beverage space to bring you their newest launches, recipes and happenings. Get ready to sip on some delicious cocktails and let the socializing begin!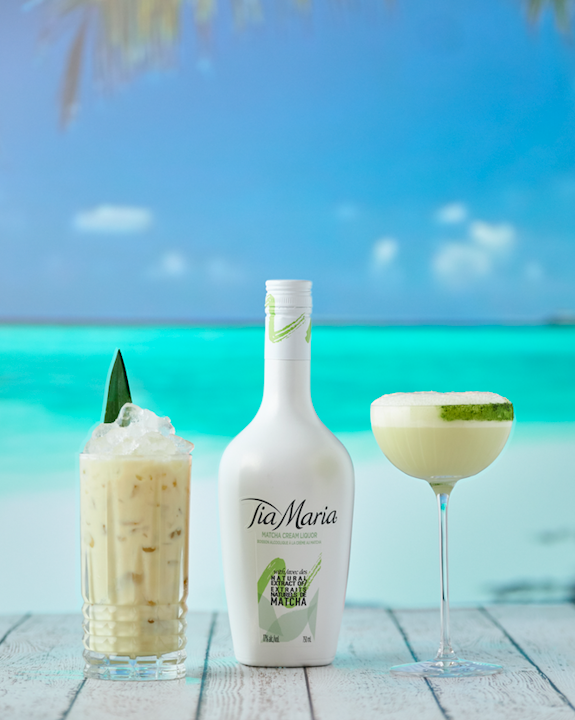 'Tis the season to put away the winter wardrobe and start sipping on some refreshing, spring-inspired cocktails. The latest drink craze taking Canada by storm this season are matcha cocktails, courtesy of the world's first and only matcha liqueur, Tia Maria Matcha! And good news, it's now available at the LCBO.
We know the matcha trend has been rampant with lattes, smoothies, bubble teas and more, so it was only a matter of time before it entered the cocktail world. Cue Matcha-tinis, Matcha Coladas and matcha more thanks to Tia Maria, the iconic coffee liqueur, who now offer coffee AND tea – a matcha made in heaven!
Tia Maria Matcha is an indulgent creamy liqueur with the distinctive flavours and natural caffeine of Japanese green matcha tea extract. It's beautiful over ice and added to any coffee or tea – but, without question, our new poolside cocktail is the Matcha Martini!
Matcha has clearly taken center stage proving it isn't just for tea. Tia Maria Matcha's fragrant floral notes and beautiful pastel green colour coupled with the brand's one-of-a-kind taste make it the perfect ingredient to level up those fancy, finish-with-an-umbrella type cocktails, adding a complexity of fresh flavour in a very fun way.
Whether you're looking for a cocktail with a pop of colour like the Matcha-tini or a chilled bevvy like the Matcha Colada, there's never been a better season to take your matcha time! We've rounded up some of our mouth-watering faves to welcome the warmer season.
Tia Matcha On Ice
2 oz Tia Maria Matcha
Garnish: Matcha Powder Rim
Create a mix of matcha powder and sugar. Dip the rim of your glass into a bowl of water. Shake off excess water and dip glass into the matcha rim mix. Twist glass for a thicker coating. Tap off any excess. Fill glass with ice, add Tia Maria Matcha and take your matcha time.
Tia Matcha-Tini
1.5 oz Tia Maria Matcha
1 oz Vodka
Garnish: Matcha Powder Rim
Rim half of a chilled martini glass by dipping it into a blend of matcha powder and sugar. Pour Tia Maria Matcha and vodka into a cocktail shaker filled with ice. Shake and strain into glass.
Matcha Colada
1.5 oz Tia Maria Matcha
0.5 oz spiced rum
1.5 oz coconut milk
Build ingredients over ice in a Collins glass and give a gentle stir. Garnish with your choice of pineapple leaves, dehydrated pineapple or coconut flakes and an umbrella.
Be sure to give these matcha cocktails a whirl – you might just find the taste to be your cup of tea.
Last modified: April 28, 2022